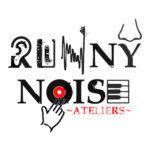 Runny Noise is a live concert played over a surround soundtrack assembled from sounds recorded throughout the globe. During the show, the audience is immersed in these ambient sounds which become the musical thread enabling the musicians to interact on stage.
Our workshops focus on giving participants an opportunity to experiment the creative process at the core of this project, to stop for a moment, listen to their surroundings and become aware of the feelings triggered within them.
The program includes an introduction to ambient sound recording followed by a practical application, and concludes with the creation of a soundtrack based on your recordings! Musicality will be the drive to explore rhythmic patterns, samples, loops, and experiment with tones, colours, and sound processing.
The final result of our work will then be available on our website for everyone to listen.